If you're looking for kitchen worktops in Hull or even a location beyond Yorkshire, Cambrian Granite is the one for you. With almost an unlimited amount of choice, you can easily find the perfect material for your kitchen or bathroom.
"You can rest assured knowing your worktop is the right size. We provide cut-to-size surfaces for all of our materials. Plus, we also offer delivery and the fitting of your worktop should you need it!"
For those looking for kitchen worktops in Yorkshire, you can get a better feel for the materials that we supply, by ordering up to 3 material samples from our newly assorted products page.
We have a range of FREE samples ready for order on our products page. Here you can find all of our worktop materials and colours, using filters to easily sort all the products. This way you can find exactly what you're looking for with minimum effort.
How To Find The Best Kitchen Worktop Near Me
When looking through our products page, you can use a ton of filters and functions to ensure you find the best kitchen worktop for you.
For example, you can choose an array of filters from our product filter groups, such as:
Colour
Material
Price Range
Features
By selecting the filters within each of these groups you'll be able to find the material that best suits your kitchen or bathroom worktop, whether it's an affordable kitchen worktop or a luxury Dekton surface, you'll be able to find the one for you!
Alternatively, you can get a glance at some of our most popular kitchen worktops and recommendations, by visiting our Granite Worktops' page via the link below.
Link: https://cambrianyorkshire.co.uk/kitchen-worktops/
Here we've tried to answer our audience's questions as accurately as possible and provide as much detail on the kitchen worktops that we offer. We also showcase some of our customers' most popular choices of material and colour.
Our most popular kitchen worktop colours have been:
These monochrome colours look great for pretty much every kitchen — so it's no surprise that they're the most popular!
Here's are two fantastic examples of these worktops — all provided by Cambrian Granite:
Star Galaxy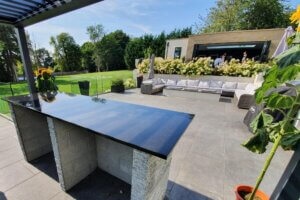 This particular material (Star Galaxy) is a granite surface that looks great as a sparkly black granite worktop. It's also an ideal surface to use for outdoor kitchen countertops — allowing you to get the maximum use of your outdoor spaces!
They're also incredibly durable and can withstand harsh winter conditions. Likewise, they look fantastic in the summer, where the well-lit environment, especially when the sunlight captures the surface to give it that stunning sparkly shimmer during the day!
Classic White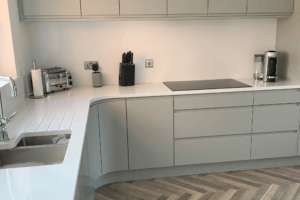 This Classic White surface is a fresh look that matches almost any environment. They've gone for a sleek minimalistic kitchen style that works perfectly with the surface for this kitchen worktop.
Our worktops are an ideal choice for kitchens as they're super easy to clean and are 100% waterproof, ideal for worktops with a sink and cooker combo, like the one above.
Like the look of worktops? If so, get in touch before these popular picks are out of stock!
Additionally, if you're looking for a supplier of granite worktops in Yorkshire, feel free to call us on 01430 410109 or contact us via the website.