"Every customer is special, and we want people to feel part of something when they come to us", says Kelly Roden – one half of the husband and wife team who own Meliora in Bawtry, Doncaster.
Meliora opened in 2017 in response to a frustration with the kitchen, bedroom, and bathroom industry where the client had seemingly become less of a priority in the process. Both Kelly & Leon have worked for large kitchen companies, including Wren Kitchens, and decided to put the customer at the heart of their business. They prefer to work with suppliers with the same ethos which is why their partnership with Cambrian Granite is a perfect match!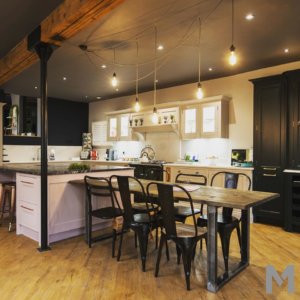 "We're not just a number to Cambrian Granite and they're part of the Meliora family – they know what we like and are always competitive in price", says Kelly. The feeling is mutual. We love how Kelly & Leon have styled Meliora as a homely, yet luxurious brand and their showroom (pictured) is the perfect space to design your next kitchen, bedroom, or bathroom space. They're clearly in demand, with clients such as Helen Skelton choosing them to transform her living space.
So, what's trending in the industry at the moment? According to Kelly, everyone wants pantries, dark blues & greens, and statement kitchen islands. Their showroom is kitted out with the latest trends, kitchen & bathroom accessories, and a treasure trove of samples. And, of course, granite is a big seller. "It's the ultimate statement piece – every worktop is unique and you'll own a little piece of the earth… that's special!"
Kelly is no stranger to the industry and it shows. She dedicates hours to showcasing Meliora on social media and has studied Instagram to make sure they stay one step ahead. Embracing the Instagram culture, you'll soon be able to get your hands on Meliora reed diffusers, designed to complement your newly designed living space. They are also working closely with Ca' Pietra to offer a bespoke tile showroom, giving their customers even more choice.
If you want to speak to Kelly or Leon, get in touch or visit their website here. You can also visit their showroom where they'll treat you to a cuppa and a biscuit.