There are plenty of reasons why sparkling worktops are amazing for kitchens, and not only that, they also look great as a sparkly bathroom worktop too!
However, we don't just fabricate and fit worktops… our talented & experienced fabricators use the most advanced machinery to create unique products, such as:
This means that you can use our materials to create bespoke applications for luxury interior designs and unique spaces.
What Makes The Sparkle Worktop So Popular?
One of the UK's most popular worktop styles is the sparkle worktop… but why?
What makes the sparkle worktop style so special… and why is the UK falling head over heels for the look?
Here are our top 5 reasons why sparkle worktops are so popular:
They look amazing!
Sparkle worktops are incredibly popular kitchen interiors. They are visually aesthetic and easily maintained, making them a favourite of homeowners and interior designers in the UK. 
For those looking to add a little sparkle to their kitchen interior projects Cambrian Granite's sparkle worktops are an excellent choice for your project.
That's because our worktops ensure that you're on-trend and most importantly on-budget!
Plus, if you're updating or adding to an existing kitchen, our sparkle worktops come in various colours, styles and materials. 
Our worktops are made from natural stones which will easily match with existing furnishings — this is great if you don't want to start your kitchen from scratch!
To make things even better, we will install the worktop for you and ensure it perfectly fits the shape and size of your kitchen. 
Additionally, we have a broad range of colours and varying price points, so you can easily find something to fit within your budget.  
Opens up enclosed spaces.
For those with little space to play with or have limited lighting — have you ever considered getting a sparkle worktop? Sparkle worktops are great for opening up enclosed spaces because of all their reflective sparkles, which work wonders for dark spaces.
These help to reflect the light in the room which really brightens the space — you can even get a smooth gloss finish to increase the amount of light being reflected! This makes the worktop a focal point of any kitchen, drawing all eyes and attention to your new surface. 
Enhances natural light.
Enhancing natural light is a key factor that professional designers take into account when creating and designing new kitchens, which makes it a useful consideration for you as a homeowner, too.
This is another reason why sparkle worktops are so popular.
They're fantastic at enhancing natural light, as the eye-catching sparkles will help reflect light throughout the kitchen. Perhaps the best part about having a sparkle worktop is when the sun comes through the window and shines on it! And the kitchen seems to glow!
If you're a professional interior designer, it'll come as no surprise that enhancing natural light is a key factor when creating new kitchens. Although it's not just the designers who want to achieve this effect. Homeowners are just as eager to enhance the light of their space!
This is another reason why sparkle worktops are so popular — they're renowned for enhancing natural light, especially white sparkle worktops!
They easily capture the light from the sun and reflect it around the room, giving off an incredible glistening to viewers.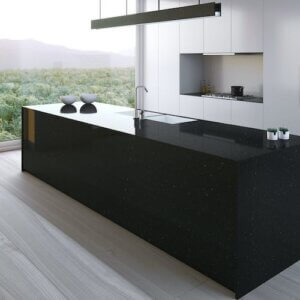 Complements your interior design.
Nowadays, we're accustomed to seeing kitchens that are unique in style and include modern interior designs; which are often full of bold colour schemes and innovative furnishings.
This is great from a designer's perspective… but can often make finding a worktop quite difficult. 
Especially when you're looking for a worktop that doesn't overpower your vibrant colour scheme. 
Fortunately, most sparkle worktops come in muted colours, such as: 
This means even the most outlandish kitchen designs will be able to make use of a sparkly worktop!
They're perfect for a party!
If you're hosting a party or just a get-together a durable kitchen countertop is essential (the bigger and more durable the worktop the better).
...which is exactly why a sparkle worktop is perfect for a get-together!
Sparkle worktops are stunning and incredibly durable, not to mention being easy to maintain.
However, try to avoid spilling any drinks if you're drinking alcohol, especially if it's red wine!
The good news is that with a sparkle worktop you'll be more than prepared for the occasion. 
So, if you're looking to treat yourself after lockdown or looking to create a space that can easily accommodate a kitchen full of people — get in touch or order a sparkle worktop today!
Looking for a worktop with the same features, but in a different material or style? To take a look at the full range, click here to visit our products page.