Interested in what sparkle worktop colours are trending in 2021? Fortunately, we've written a blog that covers just that and everything else you need to know before purchasing a sparkle worktop for the kitchen or bathroom.
Before we discuss the top trending sparkle colours of the year, there's a couple of aspects we need to consider, these are: 
What Are Sparkle Worktops?
For those of you who aren't familiar with them, sparkle worktops are worktops that have been fabricated using materials with a sparkling texture, which is caused by the reflection of light on the material's surface.
One example of a sparkle worktop is the commonly seen 'mirror chip quartz' worktop, which looks like this…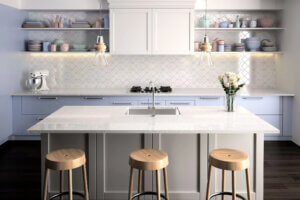 This particular worktop has bits of mirror embedded within the man-made material, which can be easily seen as the light catches them. 
Why Is The Sparkle Worktop So Popular?
One of the UK's most popular worktop styles is the sparkle worktop… but why?
What makes the sparkle worktop style so special… and why is the UK falling head over heels for the look?
Here are our top 5 reasons why sparkle worktops are so popular:
They look amazing!

Lighten up dark spaces.

Enhances natural light.

Complements your interior design.

They're perfect for a party!
It's clear to see why many people want a sparkly worktop, especially considering how popular they're becoming and the latest development of the more affordable sparkle laminate worktops.
However, if you're still not convinced by the sparkle worktop… you can read more about the benefits and popularity via our latest blog: "Why Sparkling Worktops Are Amazing For Kitchens"
For those that are interested in sparkling worktops, stick around as we're about to answer what the top 3 sparkle worktops colours are in 2021! 
What Are The Top 3 Sparkle Worktop Colours in 2021?
Now that we know what sparkle worktops are and why they're so popular, let's talk about the main question on everybody's mind… "What are the top 3 sparkle worktop colours in 2021?".
Here are our top picks for the four most popular sparkle worktop colours in 2021
White Sparkle Worktops
The number one choice for sparkling worktop colours is white. This is because of its clean and modern look, which naturally lightens the room. This is then enhanced by the reflection of light from all the mirror shards spread throughout the material. 
White sparkling worktops also have a fresh and even cool look to them, similarly to the way ice glistens in the sun. 
We love this white quartz sparkle worktop, Starlight White.
This white quartz sparkle worktop is an all-time favourite at Cambrian Granite. 
The colour (Stellar Blanco by Silestone) is amongst the number one worktop colours in 2021, which is the white sparkle worktop! 
White is a common favourite for worktops due to its sleek, modern, and sophisticated style. Not only does it look clean, but white stone worktops can also be easily cleaned too. 
This makes them popular in the kitchen, where the light monochrome colour lightens up the room, whilst also being durable enough to handle any mess made in the kitchen — which is great if you've got kids or love to wine and dine in the kitchen!
You can view the full range of white sparkle worktops here. 
Black Sparkle Worktops
Monochrome colour schemes are a go-to for kitchens and bathrooms in 2021, especially since our second favourite worktop colour is Stellar Black by Silestone.
Black sparkle worktops are popular for similar reasons to white sparkle worktops; they're sleek, modern, and look incredibly sophisticated.
The difference between the two is that a black sparkle worktop often absorbs the surrounding light, creating a more intimate mood — offering a contemporary feel and being a bold colour to use for your kitchen or bathroom interior. 
They can also create a more mysterious and tranquil atmosphere in a room, which when added to the right lighting can produce a sparkle similar to that of a starlit night!
You can view the full range of black sparkle worktops here. 
Grey Sparkle Worktops
Another fantastic colour for sparkle worktops in 2021 is grey!
The grey sparkle worktop adds to interior designs that use a lot of shades or monochrome colour schemes. However, it can also pair nicely with bolder colour choices as well.
Softer, paler greys are perfect for compact kitchens as they can make a room appear larger, brighter and offer a more open feel. 
Often smaller kitchens combine the use of grey worktops or cabinets to create the perception of more space and give the illusion of a spacious open plan room.
If you're looking for a worktop colour and material that creates a spacious environment, sparkle worktops are a great choice for your kitchen or bathroom.
Need some help choosing the right colour worktop? Get in touch with the team and we'll help you find the perfect worktop for your kitchen or bathroom.